Invisalign clear aligners are a product we hear about more and more day by day. With many happy customers using this system to fix their smiles, there are lots of questions that we want to ask when a product such as this is suddenly on our radar. In this article, we will explore the top 10 questions you are itching to get answers to as well as comparing these clear aligners to other teeth straightening options that you usually think of first.

What is Invisalign?
The Invisalign treatment is a tooth straightening, clear aligner that has been designed to treat multiple teeth issues, but the overview is that they are created to give you your straight, perfect smile. As the name suggests- they are transparent, so you can go about your daily business with the people around you being none the wiser to the fact that you are having treatment.
How does it work?
The idea of clear aligners sounds impressive, but how exactly does it work? After your consultation, your dental practitioner will take 3D images of your teeth which allows a mould to be created and personalised to your teeth. You'll receive updated aligners to match the progress and movement of your teeth throughout your treatment journey and attend regular check-ups to ensure that your teeth continue to progress towards your perfect smile.
What can Invisalign treat?
The Invisalign product can treat many different issues, which is where you will find it to be different from other clear aligners on the market and has one of the widest ranges of treatable problems.

Let's take a look at what those are:

• Overbite

• Underbite

• Crossbite

• Gap Teeth

• Open Bite

• Crowded Teeth

• Baby and Permanent Teeth

• Generally Straighter Teeth


Is Invisalign better than braces?
Braces are our go-to when we think about getting straight teeth or our perfect smile. Both braces and the Invisalign treatment offer the result you want but with very different processes. Braces can generally get you your desired result within roughly 6 months to 2 years, depending on the severity of your problem. With Invisalign aligners, it is common to see progress within a matter of weeks and your end results in as little as 6 months. And what's more, is that no one will ever have to know that you are having dental treatment- braces stand out when you smile and when you talk. But with these clear aligners, no one will see your treatment, only noticing your end result with your perfect smile.
How much does it cost?
Cost is one of our first thoughts and something we dread finding out. The excellent news about Invisalign's aligners is that the cost can be spread over monthly finance. Your dental practice will take you through all of your treatment plan and explain the costs to you- this means that the cost of this product will vary depending on the length of your treatment and the severity of your case.
Will Invisalign work for me?
As mentioned before, the Invisalign system is one of few clear aligner products that are compatible with such a wide range of treatments; from mild issues such as wanting to straighten your teeth to more prominent needs, you can meet your match with Invisalign clear aligners. To find out if these clear aligners are correct for you- book with your trusted dental practitioner that can provide Invisalign treatments.
How is it different to other products?
Besides offering a more comprehensive range of treatment options, Invisalign have your comfort in mind. Each aligner is made specifically to fit you, trimmed to avoid any discomfort to your gums and mouth. All Invisalign treatments are carried out by trusted practitioners, meaning that you always have the chance to voice any concerns and ask questions during the process of your treatment at your in-person check-ups. With many clear aligner products online, you are unfortunately not given a chance to take advantage of these in-practice check-ups. Instead, online consultations are offered, which don't provide the same security that your dental practice can.

What can I expect from my treatment?
The stages of your treatment start with your consultation. Here your practitioner will go through all the steps of your treatment with you. They will begin by taking the 3D digital scan of your teeth, which will be used to map out your treatment to come. Your doctor will ensure that your aligner is a comfortable fit upon receiving your first aligner. From here, you will receive a new aligner every 6-8 weeks during your in-person check-ups. During your treatment, it is essential to keep up your usual routine; eat and brush your teeth as normal to keep your oral hygiene good and teeth healthy throughout the process. At the end of your clear aligner journey, you will receive a retainer to keep your smile looking beautiful and intact. 

What is Invisalign made from?
Invisalign's clear aligners are made of medical-grade thermoplastic polymers. They are made with your safety in mind as these materials prove to be viable for long term use in the body. They also do not contain latex or parabens that would cause harmful reactions to your body. However, with any medical history, you should always consult with your doctor or practitioner before use.
Where can I get Invisalign?
Invisalign providers are available throughout dental practices all over England. Still, you want to ensure that you are putting the health of your teeth in the best possible care and receiving treatment from trusted dental practices such as New Road Dental.

If you are thinking about getting your perfect smile using the Invisalign System, then start by booking at New Road Dental, here you can grab our current offer of a free consultation for your Invisalign treatment and secure savings off our complete Smile Transformation package.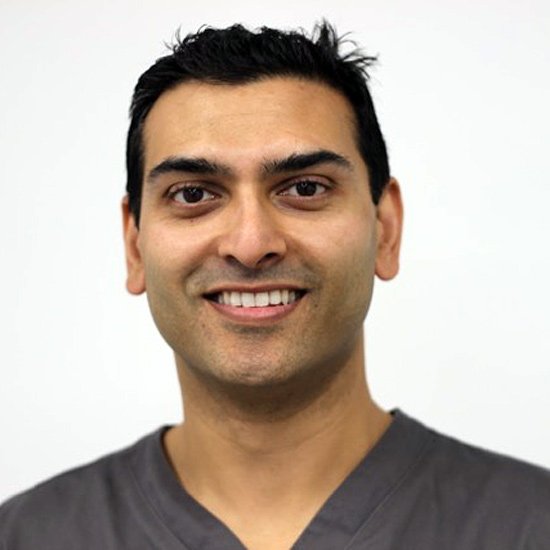 Dr. Ravi Solanki BDS Sheffield (2002) MFDS RCS (Eng) PGCME GDC No: 80945
Ravi qualified in 2002 from the University of Sheffield with a Bachelor of Dental Surgery. Having completed his degree, he joined New Road Dental for one year, then served as a House officer and Senior House Officer in Cardiff Dental Hospital, Birmingham Children's Hospital and Birmingham Dental Hospital. His experience included working in several specialties including Oral & Maxillofacial Surgery, Restorative, Paediatric, Periodontology, and conscious sedation.
Ravi is registered with the General Dental Council and is a member of the British Dental Association. He completed the prestigious Membership of the Fellowship of Dental Surgeons of the Royal College of Surgeons of England in 2005, then returned to general practice. He is a Clinical Director of New Road Dental and works full time. His particular interests include oral surgery, dental implants, restorative dentistry, cosmetic dentistry, and treating anxious patients.
Ravi is an approved Foundation Dentist Trainer with the West Midlands Deanery. This is a prestigious position where he is responsible for the training of newly qualified dentists. In 2013 he successfully completed his Post Graduate Certificate in Medical Education from the University of Wolverhampton. Ravi is also a proud provider of Fastbraces® Technology.
His brother, Pritesh (Tesh), is also part of the practice. With their amazing team, they have made some improvements in the practice over the last 10 years, which means patients can now benefit from state of the art advancements in dentistry and facial aesthetics.
On the personal side, Ravi is married with 2 children – 1 boy and 1 girl. Most patients know he loves cricket and food. Ravi also swims and practices Wing Chun Kung Fu. He and his family love to travel to explore different cultures and cuisines.
Ravi says: "What I really enjoy about dentistry is the way we have changed people's lives by helping them with their confidence. The difference it makes still manages to surprise me."