Choosing to align your teeth is a transformative decision, and who better to guide you on this journey than the seasoned professional, Dr Ravi Solanki at New Road Dental Practice in Bromsgrove? Renowned for his expertise and patient-centred approach, Dr Ravi Solanki is a leading advocate of Invisalign treatment plans – the cutting-edge dental solution that's revolutionising orthodontics and has a Diploma in Aligner Mastery. Let's explore the advantages of choosing Invisalign with Dr Ravi Solanki.

1. Expertise with a Personal Touch
When you choose Invisalign treatment with Dr Solanki, you're not just getting state-of-the-art aligners. You are choosing personalised care and vast professional experience. Dr Solanki provides a detailed consultation to understand your dental history, needs, and aesthetic goals. He believes in a treatment approach that is as unique as your smile.
2. Advanced Technology for Precise Outcomes
At New Road Dental Practice, Dr Ravi Solanki utilises cutting-edge 3D imaging technology to map out your entire Invisalign treatment plan, giving you a glimpse of your future smile before the treatment begins. This ensures you're fully aware of the process and outcome, enabling an informed and confident decision.
3. Comprehensive Dental Care
Choosing Invisalign with Dr Ravi Solanki at New Road Dental Practice means access to comprehensive dental care. The team ensures that your oral health is optimised throughout the process. By making it easy to maintain your oral hygiene routine, Invisalign aligners aid in preventing the build-up of plaque, cavities, and gum diseases.
4. Convenience and Flexibility
In line with his commitment to patient convenience, Dr Ravi Solanki ensures that your Invisalign aligners are seamlessly integrated into your lifestyle. The flexibility to remove your aligners for eating, brushing, and special events means less disruption to your daily routine.
5. Supportive and Timely Follow-Ups
Dr Solanki's holistic care approach extends beyond just your treatment sessions. He schedules regular, yet less frequent follow-ups compared to traditional braces. These timely check-ins help keep your treatment on track while minimising the impact on your day-to-day life.
6. Ideal for Active Lifestyles
If you're a sports enthusiast, or lead an active lifestyle, choosing Invisalign with Dr Ravi Solanki can help prevent the mouth injuries that traditional braces might cause. Simply remove your aligners during the activity (if appropriate) and put them back in afterwards.
7. Aftercare Support
Post-treatment care is critical for maintaining the results of your orthodontic treatment. Dr Ravi Solanki and the team at New Road Dental Practice provide detailed guidance for aftercare. Their continued support ensures that you can maintain your stunning new smile long after the Invisalign treatment plan is complete.
Choosing Invisalign with Dr. Ravi Solanki at New Road Dental Practice in Bromsgrove offers you not just a path to a beautiful smile, but a comprehensive, comforting and convenient orthodontic experience. With personal attention, advanced technology, and an experienced team, your journey towards perfecting your smile can be as rewarding as the results.

Image Source: Canva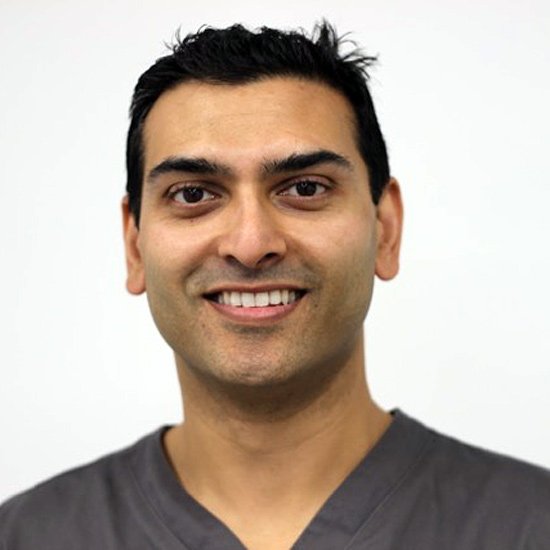 Dr. Ravi Solanki BDS Sheffield (2002) MFDS RCS (Eng) PGCME GDC No: 80945
Ravi qualified in 2002 from the University of Sheffield with a Bachelor of Dental Surgery. Having completed his degree, he joined New Road Dental for one year, then served as a House officer and Senior House Officer in Cardiff Dental Hospital, Birmingham Children's Hospital and Birmingham Dental Hospital. His experience included working in several specialties including Oral & Maxillofacial Surgery, Restorative, Paediatric, Periodontology, and conscious sedation.
Ravi is registered with the General Dental Council and is a member of the British Dental Association. He completed the prestigious Membership of the Fellowship of Dental Surgeons of the Royal College of Surgeons of England in 2005, then returned to general practice. He is a Clinical Director of New Road Dental and works full time. His particular interests include oral surgery, dental implants, restorative dentistry, cosmetic dentistry, and treating anxious patients.
Ravi is an approved Foundation Dentist Trainer with the West Midlands Deanery. This is a prestigious position where he is responsible for the training of newly qualified dentists. In 2013 he successfully completed his Post Graduate Certificate in Medical Education from the University of Wolverhampton. Ravi is also a proud provider of Fastbraces® Technology.
His brother, Pritesh (Tesh), is also part of the practice. With their amazing team, they have made some improvements in the practice over the last 10 years, which means patients can now benefit from state of the art advancements in dentistry and facial aesthetics.
On the personal side, Ravi is married with 2 children – 1 boy and 1 girl. Most patients know he loves cricket and food. Ravi also swims and practices Wing Chun Kung Fu. He and his family love to travel to explore different cultures and cuisines.
Ravi says: "What I really enjoy about dentistry is the way we have changed people's lives by helping them with their confidence. The difference it makes still manages to surprise me."