If you've been unfortunate enough to ever need a tooth removing, you'll know that the feeling of a gap in your teeth is an odd one. Yes you will get used to not having a tooth there, but actually it's a much better option to fill the gap with a replacement tooth.
We advise on replace missing teeth as it helps you to maintain a good level of oral health. Unfortunately, if you leave a gap untreated, it can have a serious impact on not only your oral health but your overall health too. You may be surprised to learn that a missing tooth can create cardiac, breathing and digestion problems.
In regards to your oral health, a missing tooth can cause endless problems. When a tooth is removed, it leaves a significant hole. If treated correctly, this will heal but the gap will of course still be there. Food particles and bacteria will gather in this gap, therefore increasing your chances of getting tooth decay, gum disease and potentially a lot more serious issues.
You may also notice a change in the way your face looks over time. As your teeth move naturally to compensate for the gap, it's likely your face will start to sag as the teeth are no longer in the correct position to support it. You'll also notice how your bite changes when you chew your food, however you may not know that this puts unbalanced pressure on your other teeth and can cause serious damage.
We've treated many patients with missing teeth, using dental implants to replace the lost tooth or teeth and giving them a beautifully natural smile again. A dental implant is a small titanium screw that is placed into the gum to function like a tooth root. Our dentists then fit an abutment over the top before fitting a replica tooth that will look exactly like a normal tooth; they truly are the next best thing to a real tooth.
From improved confidence, to being able to enjoy their favourite foods again, previous patients are always amazed at the hugely positive impact that this treatment has on their lives. If you're living life with missing teeth, why not book a consultation and find out how you could benefit from dental implants. Call the practice on 01527 872528 today to book.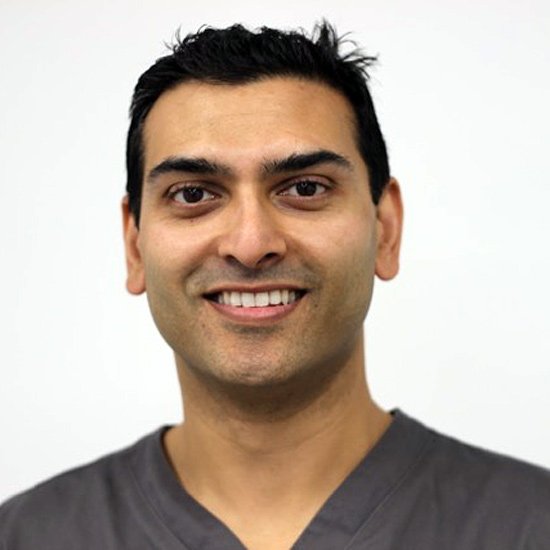 Dr. Ravi Solanki BDS Sheffield (2002) MFDS RCS (Eng) PGCME GDC No: 80945
Ravi qualified in 2002 from the University of Sheffield with a Bachelor of Dental Surgery. Having completed his degree, he joined New Road Dental for one year, then served as a House officer and Senior House Officer in Cardiff Dental Hospital, Birmingham Children's Hospital and Birmingham Dental Hospital. His experience included working in several specialties including Oral & Maxillofacial Surgery, Restorative, Paediatric, Periodontology, and conscious sedation.
Ravi is registered with the General Dental Council and is a member of the British Dental Association. He completed the prestigious Membership of the Fellowship of Dental Surgeons of the Royal College of Surgeons of England in 2005, then returned to general practice. He is a Clinical Director of New Road Dental and works full time. His particular interests include oral surgery, dental implants, restorative dentistry, cosmetic dentistry, and treating anxious patients.
Ravi is an approved Foundation Dentist Trainer with the West Midlands Deanery. This is a prestigious position where he is responsible for the training of newly qualified dentists. In 2013 he successfully completed his Post Graduate Certificate in Medical Education from the University of Wolverhampton. Ravi is also a proud provider of Fastbraces® Technology.
His brother, Pritesh (Tesh), is also part of the practice. With their amazing team, they have made some improvements in the practice over the last 10 years, which means patients can now benefit from state of the art advancements in dentistry and facial aesthetics.
On the personal side, Ravi is married with 2 children – 1 boy and 1 girl. Most patients know he loves cricket and food. Ravi also swims and practices Wing Chun Kung Fu. He and his family love to travel to explore different cultures and cuisines.
Ravi says: "What I really enjoy about dentistry is the way we have changed people's lives by helping them with their confidence. The difference it makes still manages to surprise me."