At New Road Dental in Bromsgrove we provide orthodontic treatments for adults. Did you know that misaligned teeth can be related to a number of dental problems and can also impact on a person's confidence and self-esteem, but there's no need to worry. Our experienced team are able to provide a number of comfortable and aesthetically pleasing solutions, including Invisalign to give you a beautifully aligned and natural looking smile.
The first step is to book an appointment to see your dentist here who we will assess your oral health to ensure there are no underlying problems before moving forward with an orthodontic assessment, beginning with an initial consultation.
We will take the time to listen to your concerns and requirements before undertaking a full assessment of your oral health. There are a number of orthodontic treatment methods available at the practice, each of which has different characteristics and benefits. Some methods are only suited to those who wish to move one or two of their teeth very slightly, others are discreet treatment methods that can move multiple teeth over a longer period of time.
Here's a quick introduction into a couple of the treatment methods we offer:
Clear Braces
Clear ceramic braces are a great treatment for those who want to change the position of multiple teeth, yet dislike the appearance of traditional "train track" metal braces. This discreet treatment method combines the benefit of a more traditional approach with the patients desire for a more aesthetically pleasing solution.
Metal Braces
Similar to the clear braces mentioned above, metal braces are perfect for those wishing to adjust the positioning of many teeth in order to improve their alignment.
Invisalign
Invisalign uses a series of clear aligners to straighten misaligned teeth in an extremely discreet manner. Each set of aligners is completely bespoke, which allows constant pressure to be applied to the teeth and slowly moves them into position. This treatment may not be suitable for everyone, but is favoured by many because of its discreet appearance – in fact, many describe these aligners as 'almost invisible'.
At New Road Dental, we pride ourselves on offering care that helps our patients maintain a good standard of oral health and achieve long-lasting results. If you would like to find out how we can help you to achieve a beautifully aligned smile that increases your overall standard of oral health please contact the team.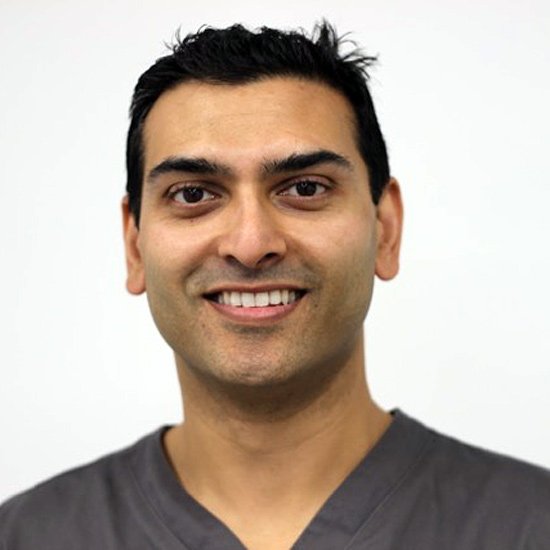 Dr. Ravi Solanki BDS Sheffield (2002) MFDS RCS (Eng) PGCME GDC No: 80945
Ravi qualified in 2002 from the University of Sheffield with a Bachelor of Dental Surgery. Having completed his degree, he joined New Road Dental for one year, then served as a House officer and Senior House Officer in Cardiff Dental Hospital, Birmingham Children's Hospital and Birmingham Dental Hospital. His experience included working in several specialties including Oral & Maxillofacial Surgery, Restorative, Paediatric, Periodontology, and conscious sedation.
Ravi is registered with the General Dental Council and is a member of the British Dental Association. He completed the prestigious Membership of the Fellowship of Dental Surgeons of the Royal College of Surgeons of England in 2005, then returned to general practice. He is a Clinical Director of New Road Dental and works full time. His particular interests include oral surgery, dental implants, restorative dentistry, cosmetic dentistry, and treating anxious patients.
Ravi is an approved Foundation Dentist Trainer with the West Midlands Deanery. This is a prestigious position where he is responsible for the training of newly qualified dentists. In 2013 he successfully completed his Post Graduate Certificate in Medical Education from the University of Wolverhampton. Ravi is also a proud provider of Fastbraces® Technology.
His brother, Pritesh (Tesh), is also part of the practice. With their amazing team, they have made some improvements in the practice over the last 10 years, which means patients can now benefit from state of the art advancements in dentistry and facial aesthetics.
On the personal side, Ravi is married with 2 children – 1 boy and 1 girl. Most patients know he loves cricket and food. Ravi also swims and practices Wing Chun Kung Fu. He and his family love to travel to explore different cultures and cuisines.
Ravi says: "What I really enjoy about dentistry is the way we have changed people's lives by helping them with their confidence. The difference it makes still manages to surprise me."