If you are missing one or more teeth due to trauma, decay or gum disease, then you may be a good candidate for dental implants. Ravi Solanki, Clinical Director at New Road Dental Practice lists some points below, which may help you decide.
1. You have a failing tooth which is still in place
If you have a tooth (or teeth) which is decayed, or has broken beyond the point of repair, a dental implant may be a good solution. We recommend that you make this decision before the tooth is extracted as sometimes an implant can be placed at the same time the tooth is removed.
2. You're frustrated by loose uncomfortable dentures
Loose unstable dentures can cause discomfort and embarrassment in social situations and make it impossible to eat certain types of food, with detrimental effects to digestion. We can use implants to stabilise the denture making it comfortable and reliable. This can help to restore confidence eating, speaking and smiling at a lower cost than fixed implant bridgework.
3. Your root canal treatment failed
Root canal treated teeth are susceptible to decay, infection and fracture. Many patients who have failing root canal work often opt for dental implants, which are not susceptible to decay and almost never break. Implants are an excellent and long-lasting alternative to the root canal procedures.
4. You have a fear of dental procedures
Dental implant placement can be carried out under local anaesthetic and during the procedure, you should feel no more discomfort than you would for any typical dental treatment.
If you are particularly anxious, we offer other forms of sedation to allow you to relax peacefully while we carry out your treatment.
Although you may have soreness for a few days after placement of the implants, over-the-counter pain relief medication will alleviate the discomfort for most patients.
If you would like to learn more about dental implants or discuss your options please speak to your dentist or a member of the reception team.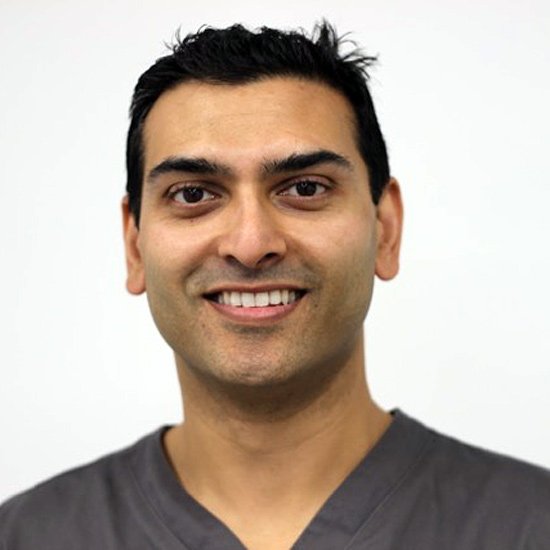 Dr. Ravi Solanki BDS Sheffield (2002) MFDS RCS (Eng) PGCME GDC No: 80945
Ravi qualified in 2002 from the University of Sheffield with a Bachelor of Dental Surgery. Having completed his degree, he joined New Road Dental for one year, then served as a House officer and Senior House Officer in Cardiff Dental Hospital, Birmingham Children's Hospital and Birmingham Dental Hospital. His experience included working in several specialties including Oral & Maxillofacial Surgery, Restorative, Paediatric, Periodontology, and conscious sedation.
Ravi is registered with the General Dental Council and is a member of the British Dental Association. He completed the prestigious Membership of the Fellowship of Dental Surgeons of the Royal College of Surgeons of England in 2005, then returned to general practice. He is a Clinical Director of New Road Dental and works full time. His particular interests include oral surgery, dental implants, restorative dentistry, cosmetic dentistry, and treating anxious patients.
Ravi is an approved Foundation Dentist Trainer with the West Midlands Deanery. This is a prestigious position where he is responsible for the training of newly qualified dentists. In 2013 he successfully completed his Post Graduate Certificate in Medical Education from the University of Wolverhampton. Ravi is also a proud provider of Fastbraces® Technology.
His brother, Pritesh (Tesh), is also part of the practice. With their amazing team, they have made some improvements in the practice over the last 10 years, which means patients can now benefit from state of the art advancements in dentistry and facial aesthetics.
On the personal side, Ravi is married with 2 children – 1 boy and 1 girl. Most patients know he loves cricket and food. Ravi also swims and practices Wing Chun Kung Fu. He and his family love to travel to explore different cultures and cuisines.
Ravi says: "What I really enjoy about dentistry is the way we have changed people's lives by helping them with their confidence. The difference it makes still manages to surprise me."