Do you dream of a straighter smile but dislike the thought of living with braces for months? If so, then the information we're about to share with you could make your day.
Thanks to recent advances in technology, we are now able to offer our patients an orthodontic treatment that has been described as 'revolutionary' by dental professionals. We're proud to add Invisalign clear-aligners to the many orthodontic solutions our experienced dentists are able to provide.
What is Invisalign?
The Invisalign treatment utilises a series of clear aligners to apply constant pressure to your teeth over a series of months. The aligners used in this treatment are completely bespoke to you and are therefore extremely comfortable; some patients have even forgotten that they are there.
What are the benefits?
The main benefit of Invisalign compared to other orthodontic treatments is its incredibly discreet nature. However, this is not the only reason why this treatment is favoured by many. The constant pressure that is applied to a patient's teeth makes this one of the faster methods of re-aligning teeth. Our dentist is able to monitor this treatment and tailor it if necessary to ensure that the entire process is as efficient as it can possibly be. In addition to this, the removable nature of these aligners mean that the results can be seen from quite an early stage.
Who is Invisalign suitable for?
This revolutionary treatment can usually be used to treat those who have one of the following issues:
Overcrowded teeth
Widely spaced teeth
Cross bites
Deep bites
Under bites
Unfortunately, this treatment isn't suitable for everybody however we are able to access your suitability for the many orthodontic treatments we provide at an indepth consultation. In this session we will assess your current level of oral health and listen to your requirements and preferences before talking you through your options. We feel it is our responsibility to advise you on the best treatment for your needs and will always be completely open and honest when doing so.
To book your consultation with our highly-experienced treatment coordinator and find out how we can help you to achieve your dream smile, call the practice on 01527 872528.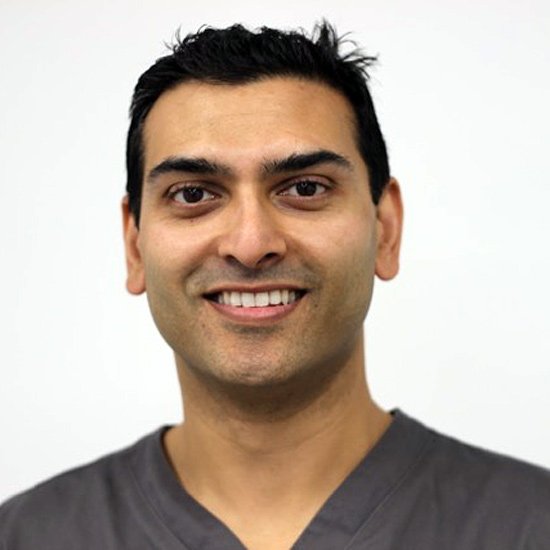 Dr. Ravi Solanki BDS Sheffield (2002) MFDS RCS (Eng) PGCME GDC No: 80945
Ravi qualified in 2002 from the University of Sheffield with a Bachelor of Dental Surgery. Having completed his degree, he joined New Road Dental for one year, then served as a House officer and Senior House Officer in Cardiff Dental Hospital, Birmingham Children's Hospital and Birmingham Dental Hospital. His experience included working in several specialties including Oral & Maxillofacial Surgery, Restorative, Paediatric, Periodontology, and conscious sedation.
Ravi is registered with the General Dental Council and is a member of the British Dental Association. He completed the prestigious Membership of the Fellowship of Dental Surgeons of the Royal College of Surgeons of England in 2005, then returned to general practice. He is a Clinical Director of New Road Dental and works full time. His particular interests include oral surgery, dental implants, restorative dentistry, cosmetic dentistry, and treating anxious patients.
Ravi is an approved Foundation Dentist Trainer with the West Midlands Deanery. This is a prestigious position where he is responsible for the training of newly qualified dentists. In 2013 he successfully completed his Post Graduate Certificate in Medical Education from the University of Wolverhampton. Ravi is also a proud provider of Fastbraces® Technology.
His brother, Pritesh (Tesh), is also part of the practice. With their amazing team, they have made some improvements in the practice over the last 10 years, which means patients can now benefit from state of the art advancements in dentistry and facial aesthetics.
On the personal side, Ravi is married with 2 children – 1 boy and 1 girl. Most patients know he loves cricket and food. Ravi also swims and practices Wing Chun Kung Fu. He and his family love to travel to explore different cultures and cuisines.
Ravi says: "What I really enjoy about dentistry is the way we have changed people's lives by helping them with their confidence. The difference it makes still manages to surprise me."