In an age where health and fitness seems to be surrounded by more 'buzz' than ever, it's hard to know who to listen to when it comes to your diet. We're not nutritionists, however the recent hype around juice diets does make us worry. The sheer amount of vegetables and fruit is great for ensuring you get lots of vitamins, however the effects on your oral health are likely to be everything but positive.
The concerns are all linked to the amount of sugar a person would consume if following this diet. In fact, many nutritionists and health professionals believe that this diet could increase the chances of developing Type 2 Diabetes. Although the sugars that are found in fruit and vegetables are natural sugars, they can still have a detrimental effect on both your oral health and overall health if too much is consumed.
When these juices and smoothies are made, the sugar that is naturally contained within the cellular structure of the fruits and vegetables changes from intrinsic to extrinsic sugar; these sugars are in the same classification as regular table sugars. It may be a shock to some that many smoothies contain more sugar than a regular can of Coca-Cola! Here's a few examples:
Marks & Spencers Super Berry Smoothie – 12.2g sugar per 100ml
Innocent's Magnificent Mango Smoothie – 11g sugar per 100ml
Naked's Red Machine Smoothie – 11.2g sugar per 100ml
Pret's Fresh Berry Blast Smoothie – 10.7g sugar per 100ml
So with that in mind, we thought we would look at the aspect which draws many toward the juicing diet. The question is, are smoothies and fruit juices part of your five a day? Although the answer is yes, it's not quite as simple as it may first seem. The juicing process removes fibre from the ingredients and unfortunately this changes things.
The Government's guidelines state that a 150ml glass of juice can count as one of your five-a -day, but increasing the amount you drink won't increase the number you are consuming – it's still just one of your five-a-day. Some blended drinks may claim they contain two portions of fruit or vegetables in which case they must contain at least 150ml of juice and more than 80g of crushed pulp. Like juices, the limit is still capped and this will only ever count as two portions of your five-a-day, no matter how much you drink.
Moving back to our oral health concerns, you may be surprised to know it's not actually the amount of sugar that is consumed that can increase the risk of caries. It is the length of time that your teeth, specifically their surfaces, are exposed to free sugars and other carbs. So with this in mind, if you're consuming juices because you want the benefits of vitamins and minerals the answer is simple – eat your vegetables! Reduce the frequency of sugar consumption and if you are going to consume a smoothie, do it with a meal and through a straw.
If you're concerned about the damage that sugars may have had on your teeth, please call the practice to book an oral health check-up on 01527 872528.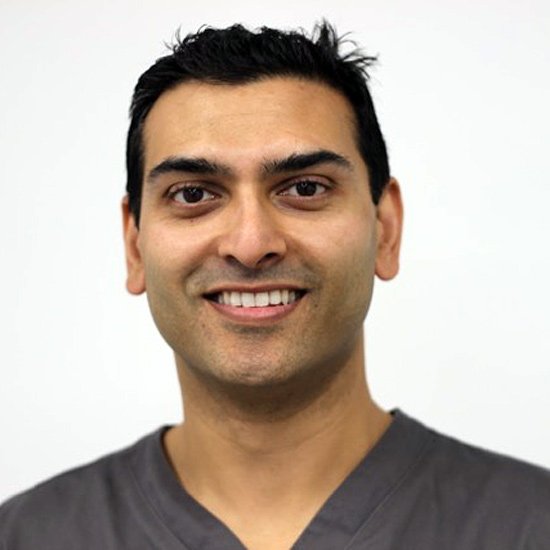 Dr. Ravi Solanki BDS Sheffield (2002) MFDS RCS (Eng) PGCME GDC No: 80945
Ravi qualified in 2002 from the University of Sheffield with a Bachelor of Dental Surgery. Having completed his degree, he joined New Road Dental for one year, then served as a House officer and Senior House Officer in Cardiff Dental Hospital, Birmingham Children's Hospital and Birmingham Dental Hospital. His experience included working in several specialties including Oral & Maxillofacial Surgery, Restorative, Paediatric, Periodontology, and conscious sedation.
Ravi is registered with the General Dental Council and is a member of the British Dental Association. He completed the prestigious Membership of the Fellowship of Dental Surgeons of the Royal College of Surgeons of England in 2005, then returned to general practice. He is a Clinical Director of New Road Dental and works full time. His particular interests include oral surgery, dental implants, restorative dentistry, cosmetic dentistry, and treating anxious patients.
Ravi is an approved Foundation Dentist Trainer with the West Midlands Deanery. This is a prestigious position where he is responsible for the training of newly qualified dentists. In 2013 he successfully completed his Post Graduate Certificate in Medical Education from the University of Wolverhampton. Ravi is also a proud provider of Fastbraces® Technology.
His brother, Pritesh (Tesh), is also part of the practice. With their amazing team, they have made some improvements in the practice over the last 10 years, which means patients can now benefit from state of the art advancements in dentistry and facial aesthetics.
On the personal side, Ravi is married with 2 children – 1 boy and 1 girl. Most patients know he loves cricket and food. Ravi also swims and practices Wing Chun Kung Fu. He and his family love to travel to explore different cultures and cuisines.
Ravi says: "What I really enjoy about dentistry is the way we have changed people's lives by helping them with their confidence. The difference it makes still manages to surprise me."