At New Road Dental Practice in Bromsgrove we're dedicated to maintaining the highest standards possible at the practice and patients regularly ask her about the best teeth whitening options. Here are our team's answers to the most asked teeth whitening questions.
Will professional teeth cleaning be enough to whiten my teeth?
A professional teeth cleaning is often adequate at removing external stains, but it will not significantly lighten your teeth. However, we recommend this as the first step in the overall whitening process and our hygienist here will ensure you have thorough cleaning session as well as recommending a home cleaning routine to help you achieve the most from your teeth whitening procedure.
My teeth are already sensitive, will whitening make them worse?
It is important to establish the cause of tooth sensitivity before a teeth whitening treatment but having sensitive teeth does not necessarily rule out treatment. Sensitive teeth often benefit from pre-treatment with remineralising products or an in-surgery whitening procedure, where we can incorporate nano-Hydroxyapatite (nHAp) to reduce sensitivity.
What is nano-Hydroxyapatite (nHAp)?
Within your teeth, 97% of enamel and dentine is made up of the mineral Hydroxyapatite. Dental erosion and other damaging processes in the mouth can cause loss of this mineral and damage the structure of the tooth, resulting in sensitivity. The application of dental products including nHAp helps to remineralise the weakened enamel.
I have a crown on a front tooth can I still proceed with tooth whitening?
White fillings and crowns will not change colour when you whiten your teeth. However, subject to the degree your teeth lighten, you may wish to replace your old crowns and fillings with whiter versions to match the lighter shade of your teeth following treatment.
I have had a root canal treatment previously will this tooth still lighten?
Teeth that have been endodontically treated respond very slowly to whitening and some do not respond at all. It may therefore be more effective to perform internal bleaching on the tooth.
How should I maintain my new white smile?
If you follow our recommended home cleaning routine you should continue to keep your whiter smile. The whiteness of your teeth will fade if you smoke, drink a lot of tea or coffee, red wine. Even eating many curries can have an effect.
Keep your toothbrush in good condition making sure you change your toothbrush or the head of your electric toothbrush at least every two to three months. Also, use floss and interdental brushes as they can transform your smile by removing some of the staining in between teeth.
If you have any questions about Teeth Whitening here at New Road Dental Practice in Bromsgrove please call and speak with the team or book an initial consultation.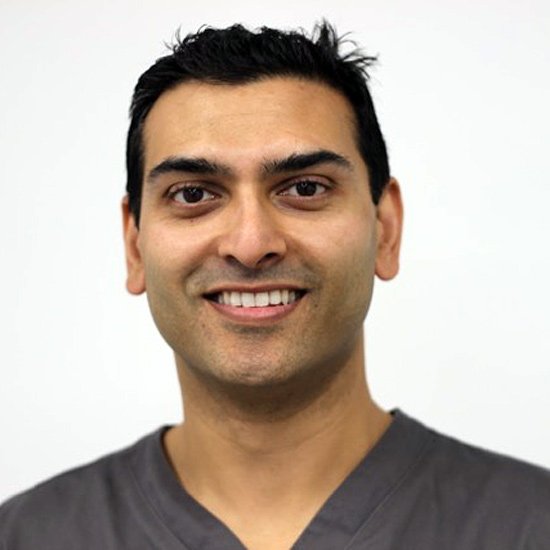 Dr. Ravi Solanki BDS Sheffield (2002) MFDS RCS (Eng) PGCME GDC No: 80945
Ravi qualified in 2002 from the University of Sheffield with a Bachelor of Dental Surgery. Having completed his degree, he joined New Road Dental for one year, then served as a House officer and Senior House Officer in Cardiff Dental Hospital, Birmingham Children's Hospital and Birmingham Dental Hospital. His experience included working in several specialties including Oral & Maxillofacial Surgery, Restorative, Paediatric, Periodontology, and conscious sedation.
Ravi is registered with the General Dental Council and is a member of the British Dental Association. He completed the prestigious Membership of the Fellowship of Dental Surgeons of the Royal College of Surgeons of England in 2005, then returned to general practice. He is a Clinical Director of New Road Dental and works full time. His particular interests include oral surgery, dental implants, restorative dentistry, cosmetic dentistry, and treating anxious patients.
Ravi is an approved Foundation Dentist Trainer with the West Midlands Deanery. This is a prestigious position where he is responsible for the training of newly qualified dentists. In 2013 he successfully completed his Post Graduate Certificate in Medical Education from the University of Wolverhampton. Ravi is also a proud provider of Fastbraces® Technology.
His brother, Pritesh (Tesh), is also part of the practice. With their amazing team, they have made some improvements in the practice over the last 10 years, which means patients can now benefit from state of the art advancements in dentistry and facial aesthetics.
On the personal side, Ravi is married with 2 children – 1 boy and 1 girl. Most patients know he loves cricket and food. Ravi also swims and practices Wing Chun Kung Fu. He and his family love to travel to explore different cultures and cuisines.
Ravi says: "What I really enjoy about dentistry is the way we have changed people's lives by helping them with their confidence. The difference it makes still manages to surprise me."