It's the time of the year where we find ourselves searching for our sandals and sunscreen in the hope that we're going to have a long hot summer – fingers crossed! If you're looking to get a whiter smile for summer, maybe for a big event or your holiday, then it's not too late.
New Road Dental are an accredited Enlighten Professional Tooth Whitening Centre and therefore have the experience and knowledge to help you achieve the brighter smile you've been dreaming of.
So why would you need teeth whitening?
It's quite simple really. Our modern diets include a lot of tasty food and drinks that can actually stain our teeth over time. For example red wine, your morning tea or coffee and curries are all treats we enjoy that affect the appearance of our teeth. It's not just food and drink that have this effect however, your teeth may lose their colour naturally as you age. Smoking is also extremely bad for both the appearance and health of your teeth. So if you've noticed your teeth aren't quite as pearly-white as they perhaps used to be, or maybe you would just like to freshen up your smile, we have the solution to help you smile with confidence once again.
How does teeth whitening work?
The first stage is to visit us for a consultation. We appreciate that everybody has their individual preferences when it comes to the shade of their teeth – the 'Simon Cowell' look isn't for everyone and that's absolutely fine. Once we've listened to your requirements, we will then put together a detailed treatment plan, which will give you all the information you need to decide whether you would like to go ahead with the teeth-whitening treatment.
If you decide to take the next step towards a brighter smile, then we would recommend that you have a thorough scale and polish, completed by our Hygienist before your treatment; This will allow you to get the best results. We will then take the impressions of your teeth to make the trays for the whitening formula. Once these are ready we will demonstrate how to use the trays and provide your Enlighten Whitening Kit so that you can start whitening your teeth in the comfort of your own home. We ask that you return to the practice 2 weeks after you begin the whitening so we can review the progress against your initial goals. Then that's it – pretty simple and very effective. In fact, the Enlighten system is the only system that can achieve the VITA shade B1, which is the whitest shade shown on the dental scale.
If you want to freshen up your teeth to give you a smile then sparkles, call our practice on 01527 872528 to book your consultation. We hope to see you soon.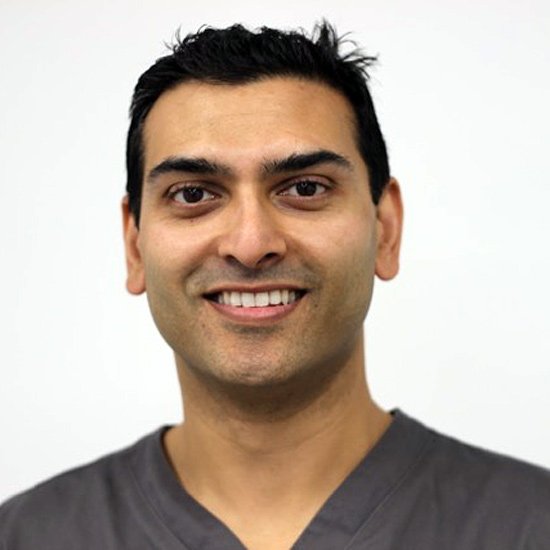 Dr. Ravi Solanki BDS Sheffield (2002) MFDS RCS (Eng) PGCME GDC No: 80945
Ravi qualified in 2002 from the University of Sheffield with a Bachelor of Dental Surgery. Having completed his degree, he joined New Road Dental for one year, then served as a House officer and Senior House Officer in Cardiff Dental Hospital, Birmingham Children's Hospital and Birmingham Dental Hospital. His experience included working in several specialties including Oral & Maxillofacial Surgery, Restorative, Paediatric, Periodontology, and conscious sedation.
Ravi is registered with the General Dental Council and is a member of the British Dental Association. He completed the prestigious Membership of the Fellowship of Dental Surgeons of the Royal College of Surgeons of England in 2005, then returned to general practice. He is a Clinical Director of New Road Dental and works full time. His particular interests include oral surgery, dental implants, restorative dentistry, cosmetic dentistry, and treating anxious patients.
Ravi is an approved Foundation Dentist Trainer with the West Midlands Deanery. This is a prestigious position where he is responsible for the training of newly qualified dentists. In 2013 he successfully completed his Post Graduate Certificate in Medical Education from the University of Wolverhampton. Ravi is also a proud provider of Fastbraces® Technology.
His brother, Pritesh (Tesh), is also part of the practice. With their amazing team, they have made some improvements in the practice over the last 10 years, which means patients can now benefit from state of the art advancements in dentistry and facial aesthetics.
On the personal side, Ravi is married with 2 children – 1 boy and 1 girl. Most patients know he loves cricket and food. Ravi also swims and practices Wing Chun Kung Fu. He and his family love to travel to explore different cultures and cuisines.
Ravi says: "What I really enjoy about dentistry is the way we have changed people's lives by helping them with their confidence. The difference it makes still manages to surprise me."