We know that maintaining a good standard of oral health is just as important as maintaining your overall well-being. Your oral health can have such a huge impact on so many different aspects, it's really worth looking after your teeth and gums.So with that in mind, here's a few tips to help boost your oral health.
Breakfast, break and brush
It's something that we get asked all the time "Should I brush before or after I have breakfast?" Well, the ideal time is around 30 minutes after you've had your first meal of the day. When we eat anything, the food/drink softens the outside layer of our teeth slightly. It is for this reason that we would never advise brushing directly after a meal as this can lead to the removal of this soft layer. Waiting a minimum of 30 minutes will allow the tooth to re-harden, so you can brush without causing any damage. If this isn't an option, brush before breakfast.
Mouthwash
Now we want to make it clear that mouthwash is not a substitute for brushing your teeth or interdental cleaning. It is however a good little extra which if used correctly will help you to improve oral health. Our tip? Choose a mouthwash which contains a good amount of fluoride. Don't use it straight after brushing as this can wash away some of the benefits gained from the toothpaste. Instead, use at different intervals such as 11am or 3pm for an extra fluoride boost.
Floss is your friend…
There's been a couple of media stories recently which have claimed 'flossing your teeth can be a waste of time' – a statement which isn't entirely true. Cleaning in between teeth is absolutely essential and flossing is a great way of doing this, particularly where teeth have a very small gap between them such as in between the front lower teeth. Interdental brushes are also very helpful. If you're not convinced, this may change your opinion: if we're not cleaning in between teeth then we aren't cleaning around 40% of the tooth surfaces.
…So is your dentist
No, we're not being biased. You've heard the term "prevention is better than a cure" and when it comes to oral health this is very much true. Regular check-ups will allow your dentist to advise you on any problem areas or suggest a routine which will help you maintain a good standard of oral health. As part of a normal examination, our dentists will check for signs or oral cancer, gum disease, tooth decay and wear; all of which are usually more straight-forward (and cheaper) to treat if detected early.
So hopefully you understand the importance of looking after your teeth and gums. If you've not had a check-up in a while, there's no need to worry. Simply call the practice on 01527 872528 and book your appointment today.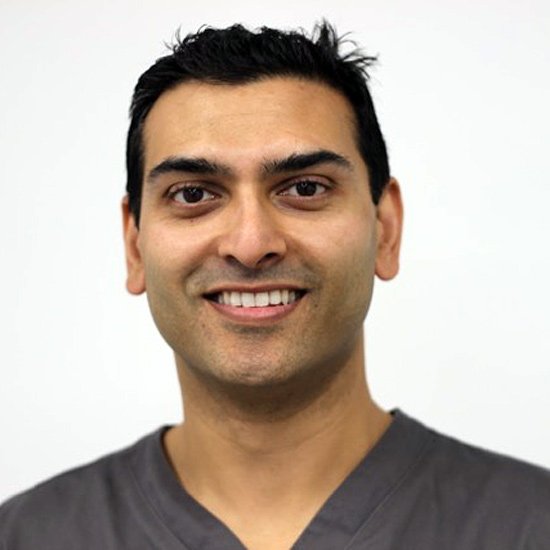 Dr. Ravi Solanki BDS Sheffield (2002) MFDS RCS (Eng) PGCME GDC No: 80945
Ravi qualified in 2002 from the University of Sheffield with a Bachelor of Dental Surgery. Having completed his degree, he joined New Road Dental for one year, then served as a House officer and Senior House Officer in Cardiff Dental Hospital, Birmingham Children's Hospital and Birmingham Dental Hospital. His experience included working in several specialties including Oral & Maxillofacial Surgery, Restorative, Paediatric, Periodontology, and conscious sedation.
Ravi is registered with the General Dental Council and is a member of the British Dental Association. He completed the prestigious Membership of the Fellowship of Dental Surgeons of the Royal College of Surgeons of England in 2005, then returned to general practice. He is a Clinical Director of New Road Dental and works full time. His particular interests include oral surgery, dental implants, restorative dentistry, cosmetic dentistry, and treating anxious patients.
Ravi is an approved Foundation Dentist Trainer with the West Midlands Deanery. This is a prestigious position where he is responsible for the training of newly qualified dentists. In 2013 he successfully completed his Post Graduate Certificate in Medical Education from the University of Wolverhampton. Ravi is also a proud provider of Fastbraces® Technology.
His brother, Pritesh (Tesh), is also part of the practice. With their amazing team, they have made some improvements in the practice over the last 10 years, which means patients can now benefit from state of the art advancements in dentistry and facial aesthetics.
On the personal side, Ravi is married with 2 children – 1 boy and 1 girl. Most patients know he loves cricket and food. Ravi also swims and practices Wing Chun Kung Fu. He and his family love to travel to explore different cultures and cuisines.
Ravi says: "What I really enjoy about dentistry is the way we have changed people's lives by helping them with their confidence. The difference it makes still manages to surprise me."