There is an unfortunate myth that you do not have to worry about baby teeth as they will all fall out any way. Cavities will develop through poor care and inadequate oral health routines. Forming good oral hygiene habits in childhood will set the foundation for children to make healthy choices as they develop.
Children who have cavities may have difficulty eating, smiling and studies show they may have problems paying attention and learning at school. Children need their teeth so they can eat properly talk smile and feel good about themselves.
When milk teeth are lost too early due to cavities this create issues when the adult teeth are ready to erupt. The milk teeth act as a guide for the adult teeth, if they are missing then there is a higher chance of the teeth coming through crooked or in the wrong position, which can result in extended orthodontic treatments to fix the problem.
Top Tips:
Start young.
From birth you should wipe your child's gums with a damp cloth or dental massager to remove any residue.
Once the first teeth come through a brushing routine should be introduced with a brush and water.
From the age of 2, a pea-sized amount of fluoride based tooth paste should be introduced. It is important to make sure that all the teeth are brushed and that the child doesn't swallow too much tooth paste. Once your child is able to properly clean their teeth introduce  visual aids such as an egg time or a digital clock to help ensure they brush for two minutes.
It is recommended that flossing should become part of their routine once the there are enough teeth in the mouth for them to touch.
Make it fun.
Allow your child to choose their tooth brush, there are a wide range of coloured and character themed toothbrushes that can make the brushing of teeth a more exciting experience for the youngster.
Let your child brush your teeth or the teeth of their favourite toy.  This will allow them to feel involved and allow them to feel more included.
Set A Good Example.
Brushing should be done at least twice a day. Children learn through copying your actions, therefore it is important that you show them your superb brushing skills. Let them copy your actions infant of a mirror, and be sure to praise them when they are doing a good job.
Limit sugary snacks & drinks.
If your child eats something sugary, he should brush when he is finished, or, at the very least, rinse his mouth with water.
Regular visits to the dentist.
Regular Dental Visits are important for everyone not just children. Ideally children should visit the dentist before their first birthday. By the age of three most children will have a full set of baby teeth, it is therefore vital that you bring your child to the dentist to allow them to see if their teeth and jaws are developing normally, The dentist will also be able to determine your child's risk of cavities and to discuss how certain habits may affect their oral health.
Regular visits to the dentist at a young age will also allow the child to become familiar with the dentist and reduce the fear of the coming.
Hopefully we've highlighted the importance of a well structured oral hygiene routine, if you want to book your child in for their first appointment simply call the practice on 01527 872 528.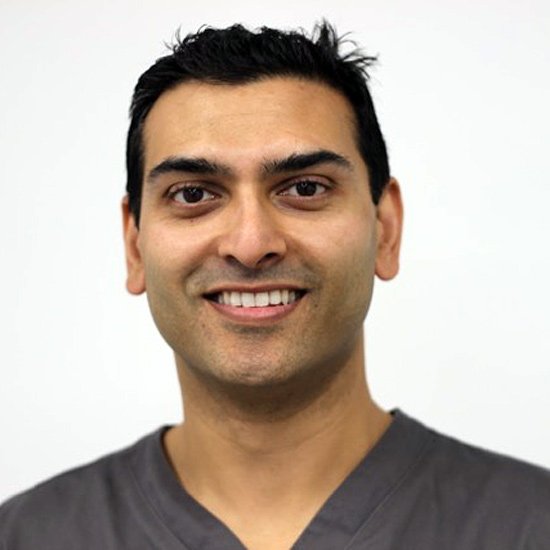 Dr. Ravi Solanki BDS Sheffield (2002) MFDS RCS (Eng) PGCME GDC No: 80945
Ravi qualified in 2002 from the University of Sheffield with a Bachelor of Dental Surgery. Having completed his degree, he joined New Road Dental for one year, then served as a House officer and Senior House Officer in Cardiff Dental Hospital, Birmingham Children's Hospital and Birmingham Dental Hospital. His experience included working in several specialties including Oral & Maxillofacial Surgery, Restorative, Paediatric, Periodontology, and conscious sedation.
Ravi is registered with the General Dental Council and is a member of the British Dental Association. He completed the prestigious Membership of the Fellowship of Dental Surgeons of the Royal College of Surgeons of England in 2005, then returned to general practice. He is a Clinical Director of New Road Dental and works full time. His particular interests include oral surgery, dental implants, restorative dentistry, cosmetic dentistry, and treating anxious patients.
Ravi is an approved Foundation Dentist Trainer with the West Midlands Deanery. This is a prestigious position where he is responsible for the training of newly qualified dentists. In 2013 he successfully completed his Post Graduate Certificate in Medical Education from the University of Wolverhampton. Ravi is also a proud provider of Fastbraces® Technology.
His brother, Pritesh (Tesh), is also part of the practice. With their amazing team, they have made some improvements in the practice over the last 10 years, which means patients can now benefit from state of the art advancements in dentistry and facial aesthetics.
On the personal side, Ravi is married with 2 children – 1 boy and 1 girl. Most patients know he loves cricket and food. Ravi also swims and practices Wing Chun Kung Fu. He and his family love to travel to explore different cultures and cuisines.
Ravi says: "What I really enjoy about dentistry is the way we have changed people's lives by helping them with their confidence. The difference it makes still manages to surprise me."