At New Road Dental Practice we recognise that the teenage years are difficult. During this period the body is developing in many ways and teenagers become more self aware and conscious of their appearance. Crooked or misaligned teeth can have very negative effects on a teenagers confidence. Whilst a teenager may recognise that traditional braces may improve their teeth over time, the fear of having to have traditional braces fitted may have a negative effect on their self image.
A healthy smile has many benefits and shows others that you are confident. Invisalign offers a much more discrete alternative to traditional braces and could be the solution to many issues such as:
Overcrowded teeth.
Widely spaced teeth.
Cross bites.
Deep bites.
Under bites.
Choosing Invisalign treatment over traditional braces has many advantages for the teen wearer.
Virtually invisible – Invisalign aligners are made from a smooth transparent plastic, meaning that many people will not know your teen is wearing them.
Normal meal times – There are many restrictions on what the wearer can or cannot eat when wearing traditional braces, sometimes resulting in a fear of social situations. As the Invisalign system is made to be removed during meal times meaning most foods can be eaten without worrying about food getting stuck or damaging them.
Long term dental health – Straighter teeth can help your teen develop a confident smile and straighter teeth are less susceptible to dental problems such as gum disease and tooth decay. By choosing Invisalign, your teen could benefit from more confidence and improved dental health.
Lifestyle – Traditional braces can make the user weary of participating in activities such as sports because of the fear of getting hit in the mouth and the damage that may cause. The design of the aligners means they can be removed for any such activity.
Visible progress – As the teeth become more aligned with each new set of aligners your teen will be able to notice how their smile is improving. This means unlike with traditional braces there is no need to wait until the end of the treatment to see the results.
Invisalign does require some commitment from the wearer so before opting for them over the traditional treatment it is worth considering some of the following factors:
Commitment – Your teen will have to commit to wearing the aligners for at least 22 hours a day in order for the treatment to get the desired results.
Dental hygiene – When wearing the aligners the wearer must commit to strict cleaning regime. Teeth need to be brushed after every meal to avoid food particles being trapped between the aligners and the teeth.
If you feel that your teen's smile and confidence could benefit from this treatment please book a consultation with our treatment coordinator for us to properly assess your teen's needs and to give you both our completely honest opinion on the most suitable type of treatment.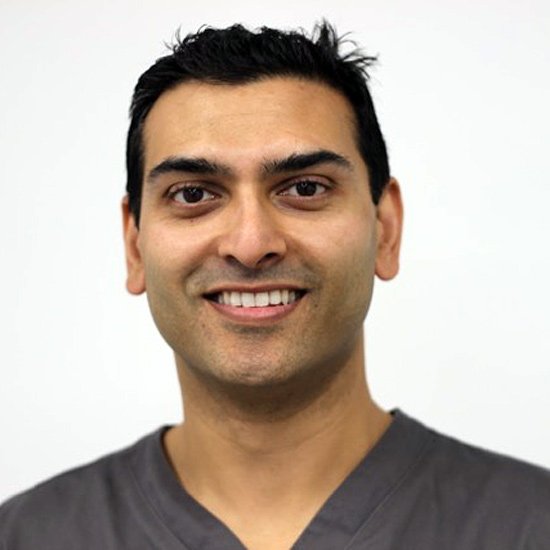 Dr. Ravi Solanki BDS Sheffield (2002) MFDS RCS (Eng) PGCME GDC No: 80945
Ravi qualified in 2002 from the University of Sheffield with a Bachelor of Dental Surgery. Having completed his degree, he joined New Road Dental for one year, then served as a House officer and Senior House Officer in Cardiff Dental Hospital, Birmingham Children's Hospital and Birmingham Dental Hospital. His experience included working in several specialties including Oral & Maxillofacial Surgery, Restorative, Paediatric, Periodontology, and conscious sedation.
Ravi is registered with the General Dental Council and is a member of the British Dental Association. He completed the prestigious Membership of the Fellowship of Dental Surgeons of the Royal College of Surgeons of England in 2005, then returned to general practice. He is a Clinical Director of New Road Dental and works full time. His particular interests include oral surgery, dental implants, restorative dentistry, cosmetic dentistry, and treating anxious patients.
Ravi is an approved Foundation Dentist Trainer with the West Midlands Deanery. This is a prestigious position where he is responsible for the training of newly qualified dentists. In 2013 he successfully completed his Post Graduate Certificate in Medical Education from the University of Wolverhampton. Ravi is also a proud provider of Fastbraces® Technology.
His brother, Pritesh (Tesh), is also part of the practice. With their amazing team, they have made some improvements in the practice over the last 10 years, which means patients can now benefit from state of the art advancements in dentistry and facial aesthetics.
On the personal side, Ravi is married with 2 children – 1 boy and 1 girl. Most patients know he loves cricket and food. Ravi also swims and practices Wing Chun Kung Fu. He and his family love to travel to explore different cultures and cuisines.
Ravi says: "What I really enjoy about dentistry is the way we have changed people's lives by helping them with their confidence. The difference it makes still manages to surprise me."