The team at New Road Dental Practice are often asked about the types of changes that a patient wearing Invisalign may experience during their treatment. Invisalign offers an almost invisible alternative to traditional braces. Whilst there are many aesthetic benefits to wearing them, they require more in the way of commitment from the wearer.
Are they the solution for you? we have put together five things that you should consider before choosing them as your re-alignment option.
1.Speech may be affected.
As with traditional braces, when you first start wearing your new aligners you may experience some lisping until you get used to wearing them.
2.Adoption of a strict cleaning regime.
The Invisalign treatment allows the wearer to eat most foods, however it is vital that you clean your teeth after every meal. Placing the aligners back on without brushing will simply trap food particles between your teeth and the system.
It is important to consider that your favourite drink may cause the aligner to become stained. This means that you must schedule your daily drinks into the two hour daily break.
3.Wear them full time.
For the treatment to work the wearer is required to wear the aligners for at least 22 hours a day. This means if you have not removed them for a meal or for cleaning you must keep them in your mouth. If you are forgetful or are unable to keep the aligners in, then the treatment will not work as efficiently for you and may take a little longer to achieve the desired result.
4.Discomfort.
Although Invisalign is often advertised as a pain free treatment, this is not entirely true. Invisalign has been designed to straighten your teeth, therefore the aligners will put pressure on your teeth to help them move. The pain is described by most as a mild discomfort, this is most noticeable during the first few days of wearing each new set of aligners.
The shape of the aligners may cause some initial discomfort as you adjust to having them in your mouth. The edges of the aligner may irritate your gums or the inside of your lips until your mouth gets used to them.  If this initial discomfort does not go away speak with your dentist who will be able to help and offer advice
This discomfort can usually be managed with traditional pain killers. Drinking hot or cold drinks can help to soothe the initial pain also.
5.Treatment & Aftercare.
During the course of your treatment you will be required to change the Invisalign aligner every two weeks or so. You will also need to visit the dentist every 6 to 8 weeks to check on the progress of your treatment. Unlike traditional braces, these visits will not require any adjustments to be made.
After you have finished wearing the aligners it is important that you commit to wearing a retainer. If you don't stick to the routine of using the retainer this will cause the teeth to shift back to their original position.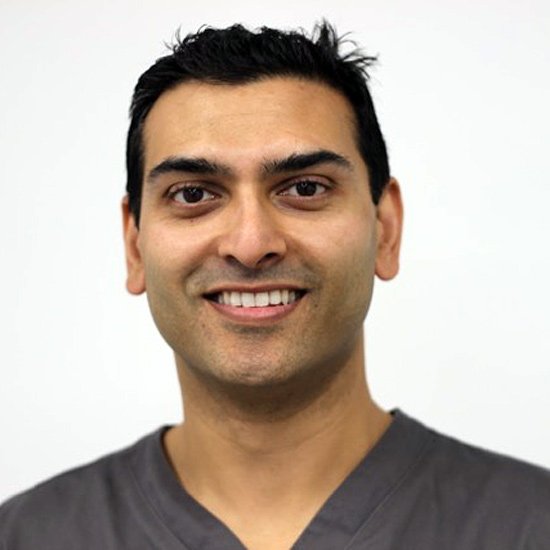 Dr. Ravi Solanki BDS Sheffield (2002) MFDS RCS (Eng) PGCME GDC No: 80945
Ravi qualified in 2002 from the University of Sheffield with a Bachelor of Dental Surgery. Having completed his degree, he joined New Road Dental for one year, then served as a House officer and Senior House Officer in Cardiff Dental Hospital, Birmingham Children's Hospital and Birmingham Dental Hospital. His experience included working in several specialties including Oral & Maxillofacial Surgery, Restorative, Paediatric, Periodontology, and conscious sedation.
Ravi is registered with the General Dental Council and is a member of the British Dental Association. He completed the prestigious Membership of the Fellowship of Dental Surgeons of the Royal College of Surgeons of England in 2005, then returned to general practice. He is a Clinical Director of New Road Dental and works full time. His particular interests include oral surgery, dental implants, restorative dentistry, cosmetic dentistry, and treating anxious patients.
Ravi is an approved Foundation Dentist Trainer with the West Midlands Deanery. This is a prestigious position where he is responsible for the training of newly qualified dentists. In 2013 he successfully completed his Post Graduate Certificate in Medical Education from the University of Wolverhampton. Ravi is also a proud provider of Fastbraces® Technology.
His brother, Pritesh (Tesh), is also part of the practice. With their amazing team, they have made some improvements in the practice over the last 10 years, which means patients can now benefit from state of the art advancements in dentistry and facial aesthetics.
On the personal side, Ravi is married with 2 children – 1 boy and 1 girl. Most patients know he loves cricket and food. Ravi also swims and practices Wing Chun Kung Fu. He and his family love to travel to explore different cultures and cuisines.
Ravi says: "What I really enjoy about dentistry is the way we have changed people's lives by helping them with their confidence. The difference it makes still manages to surprise me."