There is no doubt that Invisalign is one of the most recognised teeth straightening systems available. You may already be aware of the brand, as its popularity has increased in the UK.
At the practice we are finding that more and more new patients are enquiring about Invisalign directly and are already aware of the clear brace technology that has made the brand such a popular cosmetic treatment for teeth straightening. Often calling them "the invisible braces".
Perhaps due to this popularity, there's a healthy buzz online through social media. So for those who might still be undecided about going for an Invisalign treatment here are 5 truths that will hopefully help you.
Truth 1: The aligners need to stay on your teeth to work
One of the most attractive features of Invisalign braces (more commonly called aligners) is that they are removable. Unlike traditional wire-and-bracket braces, you can remove the aligner for meals as well as for brushing and flossing. This means you won't have to avoid favourite foods or clean with caution for fear of damaging the braces. For optimum results however, we recommend the aligners be kept on for 22 hours or more per day.
Truth 2: You will need to clean your teeth after every meal
It's necessary to maintain a good oral hygiene regime to reduce the risk of infections or tooth decay throughout the treatment plan. Brushing and flossing needs to be thorough to remove food debris as well as to clean those areas where there is contact between teeth and aligner. To help we advise patients to invest in a few travel toothbrushes to help keep up with the routine.
Truth 3: The treatment is not painful
It's not uncommon to experience mild discomfort during the phases of treatment, this usually occurs when switching to a new set of aligners and this sensation usually subsides within a couple of days. This slight discomfort experienced in the initial days of wearing a new set of aligners may be attributed to pressure that is needed to realign the teeth. The good news is that patients report that they get used to this sensation – when the teeth begin to shift and conform.
Truth 4: Invisalign is not for everyone
Invisalign can treat most common orthodontic problems such as crowded teeth, overbites, underbites or gaps. There are limitations and Invisalign is not considered the best solution for treating complex orthodontic cases such as severe deep overbites or severely rotated teeth. We always carry out a full assessment to check whether a patient would make a good candidate for Invisalign referring to a specialist orthodontist if we are unable to help. If you have any concerns about your situation you should first talk to our team to get a better idea about your suitability and related costs.
Truth 5: The aligners are virtually invisible
Invisalign aligners are not invisible. Still, they are made of a clear material and very discreet; others won't notice them in your mouth. I am sure you recall the last person you saw wearing traditional "train track" style metal braces? Can you recall someone wearing a clear aligner? That alone should underline the effectiveness and invisible nature of the clear brace technology provided by the Invisalign system.
If you would like to find out more about Invisalign call now and speak with a member of our friendly team.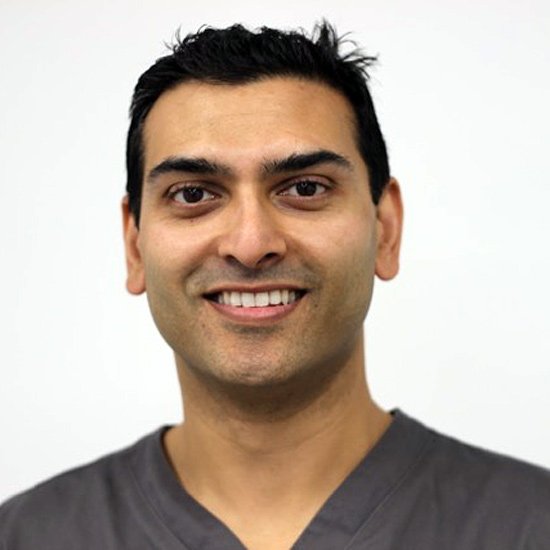 Dr. Ravi Solanki BDS Sheffield (2002) MFDS RCS (Eng) PGCME GDC No: 80945
Ravi qualified in 2002 from the University of Sheffield with a Bachelor of Dental Surgery. Having completed his degree, he joined New Road Dental for one year, then served as a House officer and Senior House Officer in Cardiff Dental Hospital, Birmingham Children's Hospital and Birmingham Dental Hospital. His experience included working in several specialties including Oral & Maxillofacial Surgery, Restorative, Paediatric, Periodontology, and conscious sedation.
Ravi is registered with the General Dental Council and is a member of the British Dental Association. He completed the prestigious Membership of the Fellowship of Dental Surgeons of the Royal College of Surgeons of England in 2005, then returned to general practice. He is a Clinical Director of New Road Dental and works full time. His particular interests include oral surgery, dental implants, restorative dentistry, cosmetic dentistry, and treating anxious patients.
Ravi is an approved Foundation Dentist Trainer with the West Midlands Deanery. This is a prestigious position where he is responsible for the training of newly qualified dentists. In 2013 he successfully completed his Post Graduate Certificate in Medical Education from the University of Wolverhampton. Ravi is also a proud provider of Fastbraces® Technology.
His brother, Pritesh (Tesh), is also part of the practice. With their amazing team, they have made some improvements in the practice over the last 10 years, which means patients can now benefit from state of the art advancements in dentistry and facial aesthetics.
On the personal side, Ravi is married with 2 children – 1 boy and 1 girl. Most patients know he loves cricket and food. Ravi also swims and practices Wing Chun Kung Fu. He and his family love to travel to explore different cultures and cuisines.
Ravi says: "What I really enjoy about dentistry is the way we have changed people's lives by helping them with their confidence. The difference it makes still manages to surprise me."